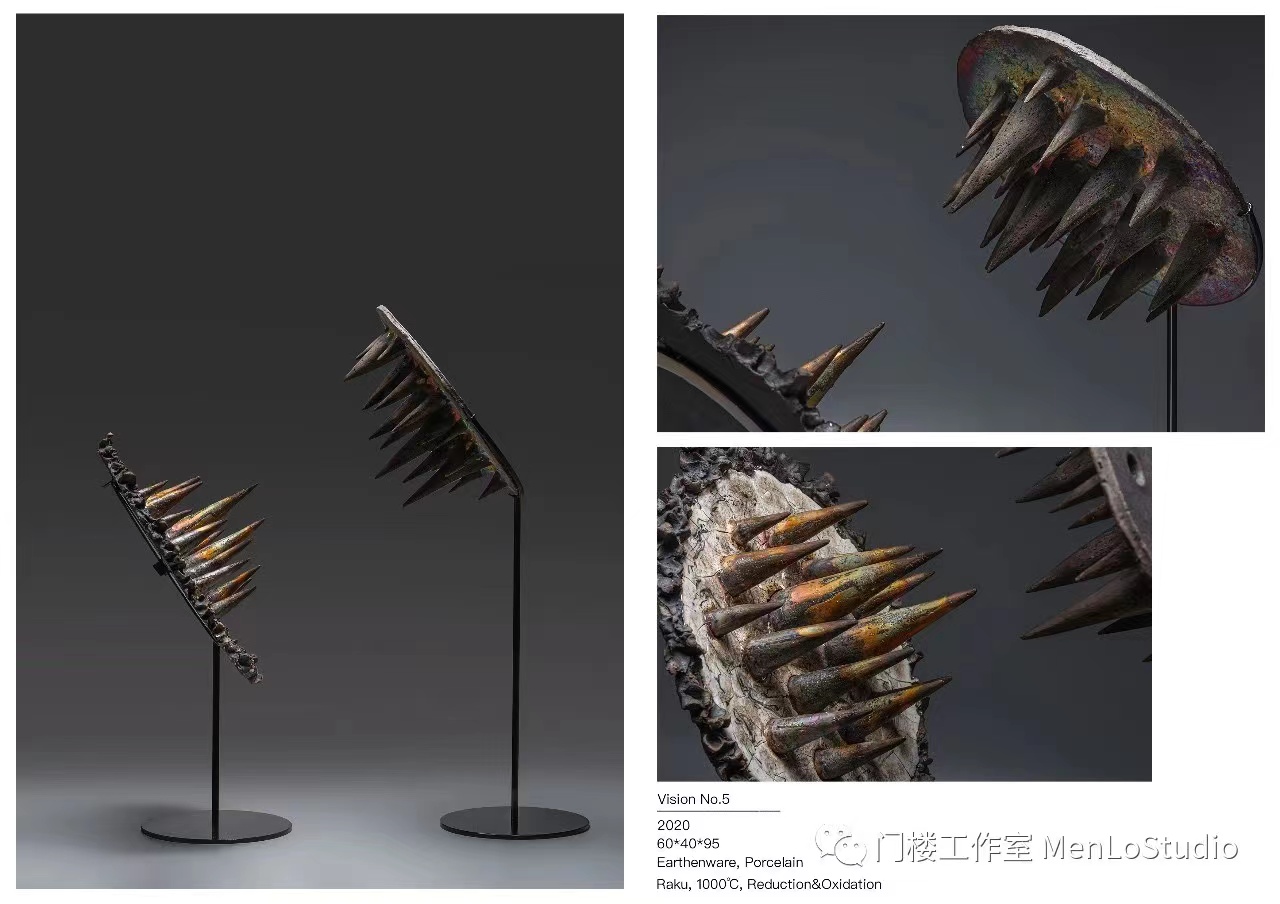 这个世界是真实的吗?

我们生活在这样一个物质的世界,并且深受唯物主义的影响,因此我们常忽略了精神世界的沟通和探索。我的作品则是在这样的背景之下围绕着"精神世界"和"物质世界"的关系所展开。"

"Is the world real?
We live in such a material world and are so influenced by materialism that we often neglect the communication and exploration of the spiritual world. In this context, my work revolves around the relationship between the "spiritual world" and the "material world "




孙晨晖

1994年出生于浙江省建德市。
2020年毕业于景德镇陶瓷大学美术学专业,获硕士学位。
师从金文伟教授。

Sun ChenHui
Born in Jiande, Zhejiang Province in 1994.
In 2020, he graduated from Jingdezhen Ceramics University with a master degree in fine Arts.
He studied under Professor Jin Wenwei.





我一直在思考两者之间的关系到底是以一种怎么样的状态存在?我不断在寻找物质和精神之间转换关系的载体,以及最纯粹的物质世界的状态。物质世界以"存在"和"结构"为主导,精神世界则又以"虚幻"和"神秘"为特点。我们无法用现有的语言去描绘出精神世界的样貌,这是语言的局限也是个体的无奈。因此我需要以一种方式去描绘精神世界和物质世界以及彼此的关系。
在整个探索过程中,我常使用圆管和开裂等视觉符号。当它们单独存在时并没有含义,而它被精神所"利用"之后,即有了存在的价值和意义,它反映了物质世界的结构性和存在性,也折射出了精神世界对于物质世界的干扰。而我在"Vision"系列中所运用的"镜子"符号,则在物质与精神的转换关系之中扮演了媒介的作用。"镜子"反射了物质影像给精神世界,那么它同样也可以将精神的影像折射出来。
精神赋予了物质存在的价值和意义,而物质则又为精神的实体化做出了表现。我的作品并不是为了告诉人们精神的存在要高于物质,而是想去表达两者的关系其实是一种紧密的存在。"

" I have been thinking about the relationship between the two in what state does it exist? I am constantly searching for the carrier of the transformational relationship between matter and spirit, as well as the purest state of the material world. The material world is dominated by "existence" and "structure", while the spiritual world is characterized by "illusion" and "mystery". We cannot use the existing language to describe the appearance of the spiritual world, which is the limitation of language and individual helplessness. So I needed a way to depict the spiritual world and the material world and their relationship to each other.
Throughout the exploration, I often used visual symbols such as round tubes and cracks. When they exist alone, they have no meaning, but when they are "used" by the spirit, they have the value and meaning of existence. It reflects the structure and existence of the material world, and also reflects the interference of the spiritual world to the material world. The "mirror" symbol I used in the "Vision" series acts as a medium in the transformation relationship between material and spirit. The mirror reflects the material image to the spiritual world, so it can also reflect the spiritual image.
The spirit endows the value and significance of the existence of the material, while the material is the embodiment of the materialization of the spirit. My work is not to tell people that the existence of spirit is higher than that of matter, but to express that the relationship between the two is actually a close existence."